Strawberry Cake Recipe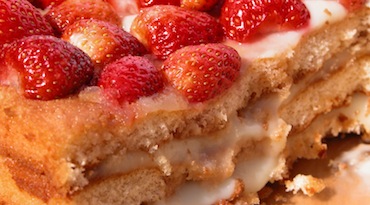 Strawberry cake recipe is a pretty easy one, however if you choose the Italian cream option it may require a bit of patience till the cream cools down. Usually it feels like starting to decorate the cake as soon as it's baked! Cool it down a bit and enjoy the process as well as a specially selected song in the video recipe below.
Where Is The Best Place To Taste A Strawberry Cake?
Ingredients
Cake
900 g strawberries - select 10-15 berries for decoration and set aside
6 egg whites
3/4 cup softened butter ~ 170 g
2 tablespoons sour cream
1 teaspoon vanilla extract
2 1/2 teaspoon baking powder
1/3 teaspoon salt
1 1/3 cup sugar
2 1/4 cup cake flour
1 teaspoon vanilla extract (optional)
Decoration
10-15 good form strawberries
whipped cream or Italian cream
Italian Cream (optional)
2 cups milk
1/2 or 1/3 cup sugar (1/2 - for absolute sweet tooth, 1/3 - for moderate)
1 1/2 tablespoon flour
4 egg yolks
1 teaspoon vanilla extract (or vanillin powder)
Need some cooking inspiration? Look at the strawberry cake recipe video and smile together with Johnny Cash!
Action Guide
Baking
1. Purify strawberries in a blender or food processor adding 1 tablespoon sugar. Leave about 1/4 of the puree for the filling.
2. Preheat oven to 350 degrees F (175 degrees C). Butter 2 pans (8 inch) and sprinkle with flour.
3. Whisk egg whites.
4. Mix together sour cream, butter, sugar, vanilla and strawberry puree until well blended. Add egg whites.
4. Fold in the flour, baking powder and salt, beat until full and even texture. Divide the batter evenly among the pans and smooth tops.
5. Bake for 25-30 minutes or until a toothpick inserted in the center comes out clean. Cool in pans for about 10 minutes and turn out onto wire racks. Let cakes cool completely.
Italian Cream (if you've chosen this option)
1. Beat together egg yolks, sugar and flour. Add approximately 1/4 cup milk.
2. Heat the rest of the milk till almost boiling.
3. Pour in the yolks mix constantly stirring. The key to success is not to stop stirring until the cream is ready. The cream will get thicker as it warms up. Take it off the heat when almost boiling. Let cool.
Assembling
1. Cover the first layer with the strawberry puree left and part of whipped cream. Cover with the second layer.
2. Decorate the top with whipped cream and fresh sliced strawberries following strawberry cake recipe video above or your own imagination.
Bon appetite!
When Is The Best Time For Strawberry Cake Recipe?