Tiramisu Recipe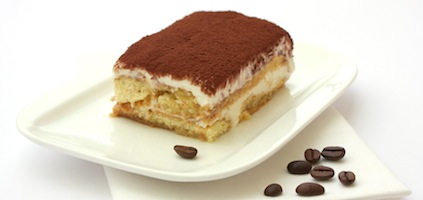 Have you ever used tiramisu to seduce someone?
Ingredients
2 cups mascarpone cheese
30 ladyfinger cookies
5 eggs
1/2 cup confectioner's sugar
1 cup strong brewed coffee
2 tablespoons cognac or rum
3 teaspoons unsweetened cocoa powder
Action Guide
1. Separate egg yolks and beat them together with confectioner's sugar. Add mascarpone cheese and blend until smooth.
2. Beat the egg whites till stiff peaks and add into the cheese mix, stir gently.
3. Add cognac into the cooled coffee and dip quickly the ladyfingers into the liguid.
4. Cover the dish bottom with half of the cookies. Spread half the mascarpone mixture over the cookie crust and sprinkle the cocoa powder on top. Repeat the soaked cookie and cheese layers.
5. Cool in the refrigerator for 4 hours or overnight. Tiramisu often tastes better the next day.
Bon appetit!